Another big update!

While I was weeding a flower bed, I was almost accosted by a giant grosshopper...I mean grasshopper. I'm not a fan of bugs and went running for Nate in the house. He came out and was also surprised by its size. This is not the best angle, but it was actually a little bit longer than his chapstick!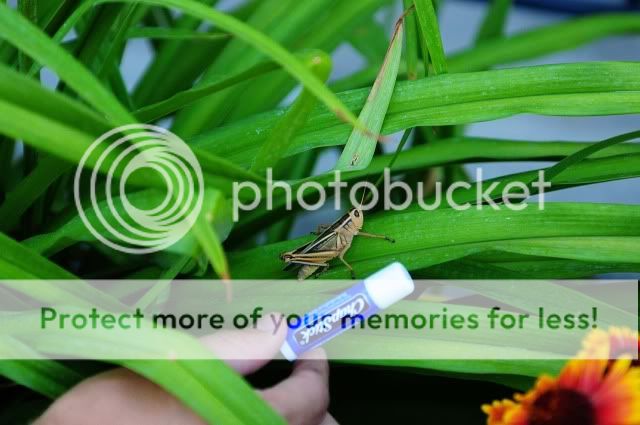 Ewww.

So he picked it up and Claire said, "I wanna hold the grasshopper." She's definitely not my daughter when it comes to bugs. She squishes ants in her hand, loves to hold potato bugs, and now grasshoppers. So he handed it to her.



She was all about it until it clawed into her arm.



A close-up just because it grosses me out so much.



Ewww. I had to share that little story because I'm so glad Claire has not developed arachnophobia like her mom.

Next up, we went camping again last weekend. This time with my family. We camped right by Tony Grove in Logan Canyon. It is beautiful up there. I have many fond memories of camping there as a kid.



We started off with a great breakfast by my dad. He's an amazing chef in the mountains.



While breakfast was being made, the kids watched Claire's favorite, "Elmo's Potty Time." (If you're looking for an entertaining/very descriptive show to watch, rent this.)



After breakfast Claire and my nephew, Corgan, were playing in the tent. It all of the sudden got quiet. You know what that means. Corgan came out of the tent with what looked like black marker all over his hand. We ran into the tent, thinking the worst, and found this.



Claire's first run-in with mascara. But I have to give her credit for her aim...she didn't get it on anything but her face and Corgan's arm. I owe my sister-in-law a new tube.




Then we hiked all around Tony Grove Lake. The sky was an unbelievable blue.



My mom and Claire.



This was the view we had of Claire and Corgan most of the time.



This overflow was one of my favorite things when I was young. You could run back and forth and up and down the walls. I was easily entertained I guess. The kids (and my dad) loved playing on it too.



Then we stopped to take some family pics. We decided to add Claire to my brother's family.



Then added Corgan to ours.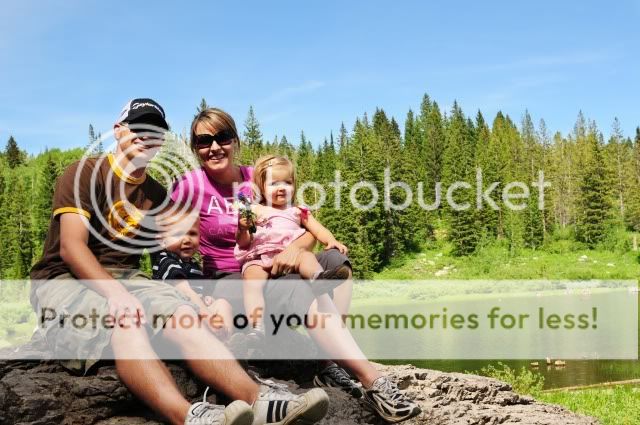 Claire loved carrying these wildflowers the whole time.



A cute one of my parents and Claire.




Lastly, we went over for the day to Bear Lake for a reunion on my mom's side of the family. I think everyone else had the same idea...it was a little crowded to say the least.



This is the only kind-of group shot I got. I was adding it up and there are almost 90 people in this family now, including great grandkids. Yeah, I come from a big family. So I guess this wasn't even close to a group shot...



My mom brought up her little kid pool and we filled it up. It was pretty overcast all day and kind of cold, so this kept the water a little warmer.



I thought I'd end with the cutest picture of the bunch. Claire and Corgan enjoying some kind of inside joke.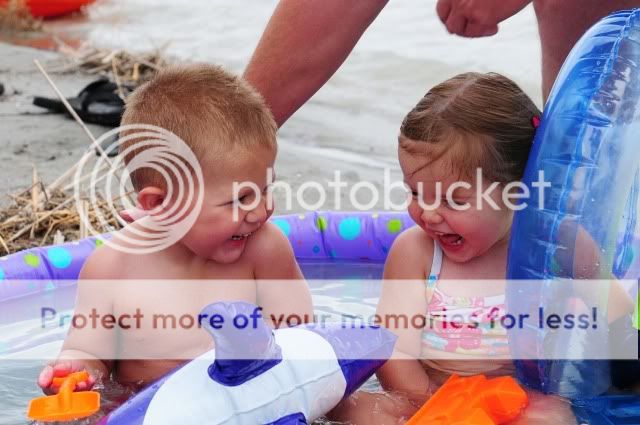 I have to say it once again, I LOVE summer!