I looked on the calendar today and stopped drinking mid-drink. Its August 31? August is almost officially over? The end of summer is upon us? Noooooo. Seeing as how I have only blogged once this once (well, on my family blog at least) I figured I better do a quick catch up for posterity sake.

Here's our August in a nutshell...

On the first day of August we went to Lagoon with some of our dearest friends, the Carlsons. Here is Soren, Kai, Nate and Claire in their shades...



Claire and Kai were best buddies. Seriously, they never fought once = minor miracle.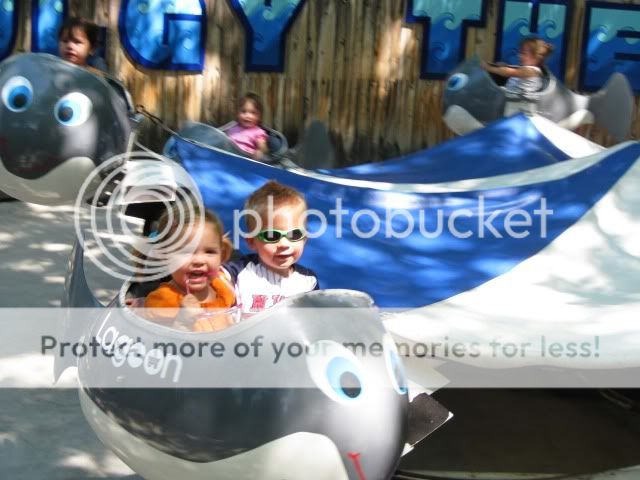 Lindsay and me with our girls, just after we got soaked by the fountains.



Claire and Nate riding the Sea Odyssey.



We dropped the kiddies off and went back for some more fun that night. We got a self-portrait on the Sky Ride.




A few days later we went to the Natural History Museum in Salt Lake. We weren't sure if Claire would like it, but she had a great time! Nate kept showing Claire the frogs and she loved it.



Claire showing us that she's two or doing a peace sign. I'm not sure which one.



Nate and Claire spinning outside.




Next up was a Bees game with my family. Claire fell in love with the Bee and wouldn't stop hugging it. It even hit her with his stinger a few times because she kept following him around. Here she is mid-action, with her cousin Bryton.



Family pic.



One with Nate and Claire...she's really into putting her arm around everyone's shoulders lately.



And Claire and me.




Next, we went swimming with cousins Drew and Corgan. Here they are ganging up on her.



My mom with Claire and Corgan.



Claire and me.




Next was our big trip to Cali. We drove and spent the night in Las Vegas. I found my new favorite/affordable hotel - South Point. We loved the pools.



I love this shot of Claire's little bum and then her huge belly.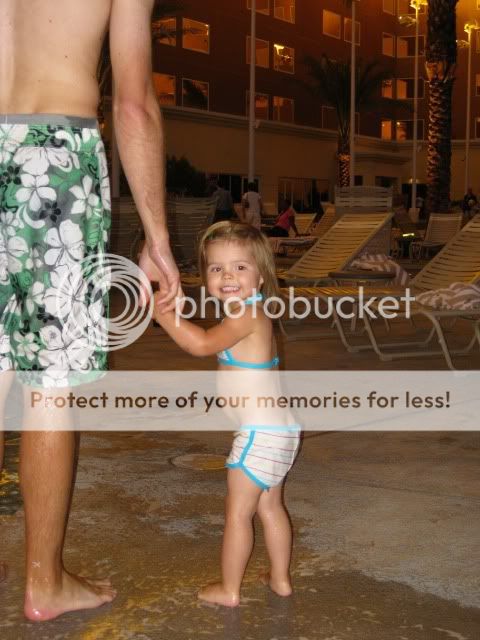 And the breakfast buffet in the morning was awesome.



Claire especially loved that she could have ice cream in the morning.



We went to Six Flags Magic Mountain on our first day in Cali. I love that place! There are tons of huge thrill rides! Thanks to Nate's parents for watching Claire all day for us. Here's a group shot - minus me of course.



Nate and I waiting in line for an awesome ride - Tatsu.



The next day we drove down to San Diego to see the BEST musical ever...



LOVED IT and love Nate for the idea.

We even got a chance to stop at the San Diego Temple. It was beautiful.



The main reason we went to LA was to celebrate Nate's grandparent's birthdays. His grandpa turned 90 and his grandma turned 75.



Claire and her cousin, Maddison, at the party.



We had almost everyone there!



I had to get one of Claire and her great-grandparents.



And I love this four-generation one.



What a great trip!

In the middle of the month, I caught this cute one of Claire and her cousin Drew. My sister calls it their "prom pic." He he he...what can I say? They posed themselves.



Next we went to Claire's cousin Sierra's second birthday party. They were loving all the sweets!



She loved the cupcakes.



Sierra and her cute parents, Cliff and Jess, blowing out the candles.




Claire got to go to the zoo with "Grandma Sheri" (Nate's mom).



She got to ride "Melman the Giraffe" from the movie "Madagascar" on the carousel.



Grandma Sheri even bought her the most prized possession she owns - a "Gloria the Hippo" stuffed animal (also from "Madagascar").




We got to go to the Dinosaur Museum at Thanksgiving Point. The kids loved the water feature.



Claire striking a pose in front of Jaws.



I love this one of Claire, Corgan, and Drew checking out the dinosaur's feet.



Out front. Notice the line? It was around the building the whole time we were there. I guess that's what you get when you go on $2 Tuesdays.



Claire, Mason, and Drew playing around afterwards.



Chillin on the bench.



I thought this one was funny. Mason looks like he's a little jealous... :)



They loved swinging on this bench!



My family got together to celebrate my bro-in-law's birthday.



We got together with Nate's family yesterday for his cousin's mission homecoming. Its great to get a group picture every now and then, even if everyone is not there.



And finally, poor Claire had some allergic reaction to a mosquito bite. Its made her entire forehead and eye swell up!



Just look at the forehead. Poor girl.



If you made it this far, I am seriously impressed. I can't believe we did all that in one month.